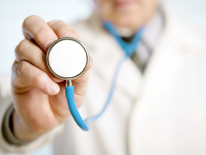 Making Your Health Benefits Work for You:
Selecting a Primary Care Provider
Regular visits to a Primary Care Provider (PCP) is beneficial for adult health and wellness. Research has found that patients with a PCP have better management of chronic diseases, lower overall health care costs, and a higher level of satisfaction with their care.
PCPs help to coordinate patient care all in one place. Within a PCP's practice, you have the ability to access a wide spectrum of health services, including preventive care, such as cancer screenings; chronic care for conditions like asthma, hypertension, and diabetes; and acute care for symptoms like cough, stomach pain, or high fever. By developing a relationship with a PCP, you are ensuring that other physicians and medical staff within the practice also know your medical history. This "health care team" can more easily detect patterns in your health and recommend lifestyle changes to prevent future complications requiring expensive specialty care. For example, simple testing during a visit with your PCP can reveal health problems, such as high blood pressure, that may go unnoticed leading to more serious issues later in life.
Hesitation to schedule an appointment with a PCP is understandable because of the potential wait to see a physician for non-urgent issues. Recent data from the Massachusetts Medical Society shows that patients wait an average of 50 days for an appointment with a PCP in the state. Luckily, there are alternatives if you need to make an appointment outside of your scheduled, routine check-up. These days, Physician Assistants and Nurse Practitioners often act as PCPs to meet growing patient demand for primary care services. You may be able to see a Physician Assistant or Nurse Practitioner in your PCP's office more quickly, reducing the time it takes to obtain an appointment.
The time is now to access primary care services. Regularly visiting a PCP helps you to look out for your health and well-being — not just for today — but also for the future.
See below for provider-specific information on choosing a PCP: