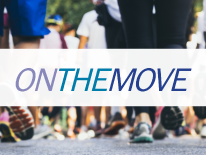 Sponsored by Aetna, the "On the Move" Employee Step Challenge is an eight-week, agency-wide online wellness competition designed to increase employee physical activity and encourage participants to take 10,000 steps each day.
Employees can track their daily activity with pedometers and wearable devices and form teams of up to five members. Participants will receive weekly tip sheets and support throughout the Challenge. At the end of the program, teams and individuals with the highest scores will be awarded with special incentives.
1st Place Team and Individual: Blenders
2nd Place Team and Individual: Wireless headphones
3rd Place Team and Individual: Yoga mat, stretch bands, foam rollers, cooling towels and LED shoe safety lights
Top Performing Team: Fruit delivery
Questions? Need Assistance? Please review the registration instructions and FAQs below or contact Wellness Corporate Solutions Customer Service:
301.229.7555 (press 2 for customer care)
Resources
Reasonable Accommodation
If you think you might be unable to participate in this program under the current program parameters due to a disability or it is medically inadvisable for you to walk or run, you still qualify for an opportunity to participate by different means. Contact Wellness Corporate Solutions at 877.469.5411 and press 2 or email
support
@wellnesscorporatesolutions.com
and we will work with you to determine a reasonable accommodation. If you have any further questions about reasonable accommodations and this Challenge, please contact DCHR at
[email protected]
.