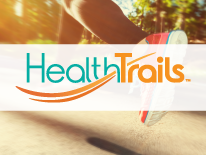 Sponsored by
Kaiser Permanente
, the HealthTrails Challenge is a District agency-wide eight-week online wellness competition that aims to encourage healthy behaviors and increase fitness among employees by virtually embarking on famous trails around the world.
Employees can join a team of up to five colleagues or participate as individuals. Employees earn credit for engaging in and tracking healthy behaviors -- including steps, produce servings and water intake -- the more activities you log, the higher your score. At the end of the program, teams and individuals with the highest scores will be awarded with special incentives. For more information on challenge logistics, please see below.
How HealthTrails Works
Each time you record a HealthTrails activity you move along the trail. It's a fun, effective way to track health habits because you actually see your progress each time you record an activity. Your goal is to travel 400+ virtual miles along the trails — you have 8 to choose from (with distances of 148-414 miles). You can easily reach your mileage goals via the following activities:
Take at least 10,000 steps a day/5 days a week
Eat 5 produce servings a day/5 days a week
Drink 6 8-ounce glasses of water a day/5 days a week
Bonus: You can add to your mileage by taking the daily Tip Test.
Participant Rewards
1st Place Team and Individual: Fitbits
2nd Place team and Individual: Gym Bags and Water Bottles
3rd Place Team and Individual: Lunch Bags
Top Performing Agency/Team: Fruit Guys Delivery
Questions & Additional Assistance
Please visit the HealthTrails website at dcgov.healthtrails.com for further information, including Frequently Asked Questions and instructions on how to participate, create a team, etc.
For on-demand assistance after you have registered, please contact HealthTrails Customer Service via their contact form. A representative will respond within one business day.
For additional assistance, please contact the DCHR Benefits and Retirement Administration at

[email protected]

.