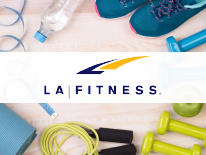 LA Fitness
focuses on the one lifelong benefit valued by everyone: good health. Founded in Southern California in 1984, LA Fitness enhances the physical and emotional well-being of its diverse membership with state-of-the-art clubs, a wide range of amenities, highly trained staff, and fun and effective workout options for members of all ages and interests.
Enrollment
$25 initiation fee (regularly $99)
$29.99 monthly fee
$35 annual fee (billed after 90 days)
Month to month, no long-term contract
To enroll, contact Drew Janskey, Corporate Wellness Director
For more information, please see the attached enrollment flyer.
Contact
Drew Jansky
214.440.6156