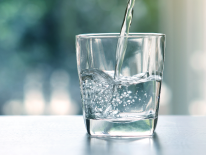 Sponsored by Aetna, "Water Works" is a six-week hydration challenge that runs Monday, February 4 through Sunday, March 17 and is aimed at helping employees drink more water. The challenge goal is to drink 64 ounces of water for at least four days during each week of the challenge. Simply track your water intake, see how your body improves and learn all about the benefits of hydration!
Details & Participation
Register online from Monday, January 28 to Friday, February 8 at www.wellworkchallenge.com. Create a username and password and fill out your profile. Once you've created your profile, click to join the WATER WORKS challenge. You will have access to your Daily Endorphin Dashboard to check your standings throughout the Challenge. Download the instructions here.
Starting Monday, February 4 through Sunday, March 17, log your daily water intake by checking the daily nutrition box titled '8 Glasses of Water' on your Daily Endorphin Dashboard. You can also print off the Challenge Tracker and leave it at your desk to log your daily water intake as well. Encourage your teammates and coworkers to drink more water each day.
Each day you drink 64 ounces of water, you will receive 4 points in the Challenge. Try to accumulate 4 points each day and watch how your body improves.
Incentives
Questions & Contact
Phone: 301-229-7555 and press 2 for customer care.