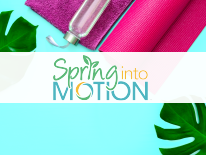 Sponsored by CareFirst, the "Spring Into Motion" Fitness Challenge runs Monday, April 5 to Sunday, May 2. The "Spring Into Motion" Challenge is a District agency-wide, four-week challenge designed to help you move more and have fun as you explore new spring themes each week. Earn daily points by achieving at least 6,000 steps or 30 minutes of activity.
Register
Registration for "Spring Into Motion" runs
Monday, March 29 to Friday, April 9
.
Participant Rewards
1st Place: FitBit Alta HR Gunmetal Series & 17 oz. h2go Silo Stainless Steel Water Bottle (valued at $150)

2nd Place: Nutri Ninja Pro Single Serve Blender & Vegetable Brush w/ Peeler (valued at $100)

3rd Place: Fitness FitKit & Yoga Mat w Carrying Case (valued at $75)

Midpoint Prize: Hungry Harvest Fruit Delivery for the first 15 Individuals to earn 30 points (valued at $25)
Questions & Additional Information