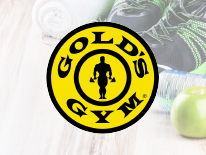 DCHR is pleased to announce DC Government employees are eligible for a preferred corporate membership rate at Gold's Gym with proof of employment.
Enroll
Visit the Gold's Gym DC Government Employee Group Rate site and use code: DHRGG123!

Please Note: This password is case sensitive and must be entered exactly as shown.

Using the location form, find a list of gyms in your area.
Select "See Offers" next to your preferred gym
Select the membership plan that is best for you.
Follow the steps to complete your purchase.
After purchase completion, your finalized Membership Agreement will be sent to you via the email address you provided.
Please Note:
This site is intended for NEW member signups only. DC Government employees who are existing Gold's Gym members must visit the gym to transfer their membership.
If the member wants to add family members, they can either use the link above or visit the gym.
Contact