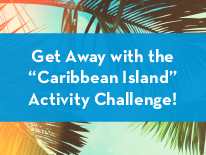 Sponsored by UnitedHealthcare, the "Caribbean Island" Activity Challenge is a Caribbean-themed, six-week physical activity challenge. Set sail traveling island to island during this year's challenge. Soak up the sun and learn some fun facts about the islands while you track your favorite activities. Reach milestones and earn virtual medals by achieving 6000, 8000 and 10,000 steps a day. Any fitness activity counts toward your step goals.
Challenge & Registration Details
The "Caribbean Island" Activity Challenge runs Monday, August 2 through Sunday, September 12, 2021.
Registration runs Monday, July 26 through Friday, August 6, 2021.
Register July 26 through August 6 at www.employeewellnesshub.com/dchr.
Participants can join as individuals or teams, but not both.
Participant Rewards
1st Place Individual: Handheld Massager
2nd Place Individual: Echo Spot Smart Alarm Clock with Alexa
3rd Place Individual: Veggie Chopper
Top Team Winner: Each team member will receive a $50 Amazon gift card
Contact
For questions about the challenge, please contact the DCHR Benefits & Retirement Administration at 202.442.7627 or

[email protected]

.
For technical issues related to the challenge website, please contact

[email protected]

.