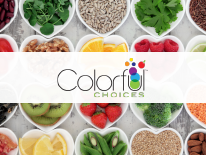 Sponsored by UnitedHealthcare, the "Colorful Choices" Nutrition Challenge is a six-week online nutrition challenge designed to help employees "put produce first" by adding more fruits and vegetables to their diet. Colorful Choices participants earn points for each produce serving they eat, with a goal of eating at least five servings of produce, with a minimum of three vegetables, each day. Forget calorie counting, fat-gram tabulating, weighing, and measuring. By spreading daily food selections across the rainbow of colors, participants are guaranteed the best produce has to offer — vitamins, fiber, phytochemicals — for better health. They also will have access to daily tips, fantastic recipes, inspiring articles and motivating daily emails.
Challenge Details
Colorful Choices runs Monday, May 7 through Sunday, June 17.
Registration runs Monday, April 30 through Friday, May 11.
Participant Incentives
Employees can join Colorful Choices as individuals or as teams of four to five participants. At the end of the program, teams and individuals with the highest scores will be awarded with special incentives.
First Place Individual Winner: XL Digital Family Air Fryer
Second Place Individual Winner :Ninja 3-1 Cooking System
Third Place Individual Winner: Hamilton Beach 950 Blender
Top Team Prize: Fruit delivery for the team and an acacia wood cutting board for each team member (awarded only to the top team, up to five members)
Questions & More Information
For additional information or assistance, please contact
Keyoana White
.