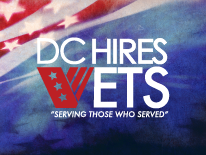 DC Hires Vets Event: Open to all Veterans and Veterans' Spouse
"Serving those who served"
Washington, DC has a strong community of veterans who bring unique talents with their combination of skills, knowledge, and commitment to the community and the country.
The DC Department of Human Resources (DCHR), in partnership with the
Department of Employment Services
, the
Mayor's Office of Veterans Affairs
and the
DC National Guard
, on
Friday, November 15, 2019
will host its third DC Hires Vets event offering veterans and veteran spouses the opportunity to connect with District and Federal agencies as well as private sector companies. Select participating agencies will conduct interviews and make contingent job offers on-the-spot.
Who: All veterans and veterans' spouse are invited to attend. The event is free but registration is required.
What: "DC Hires Vets" will offer veterans the opportunity to meet, apply, and be interviewed for positions with the District of Columbia government and private sector corporations. Further, veterans can meet directly with District agencies and those Federal agencies that provide services to veterans.
Where: D.C. Armory, 2001 E Capitol St SE, Washington, DC 20003
When: Friday, November 15, 2019; 10:00 a.m. to 3:00 p.m.
Participant Requirements
Attendees must bring one of the following documentation to the event (only one is required):
DD-214 Discharge Form

Military ID

VA Card

Letter from an assisted veterans' home indicating status as a veteran.

Other equivalent documentation
Getting There | Metro | Parking
Via will provide free shared rides for Veterans to-and-from the event, riders will enter the promo code "DCGov4Vets" in the Via mobile app, select DC National Guard Armory as either the origin or destination point, and book a ride. Riders are limited to 2 shared rides per person, and do not include + 1s or private rides.
The DC National Guard Armory is easily accessible by Metrorail and the highways surrounding the city. If using Metrorail, take the blue/orange/silver line to Stadium Armory and follow the signs to exit the station toward the stadium.
Parking lot 3 (located across from the armory entrance) is reserved for all event attendees. Parking is free for this event.
Contact
For additional information or questions, please contact the DC Department of Human Resources at
[email protected]
or 202.442.9700
Participating Employers
Interested employers are asked to fill out the employer registration form and service organizations should fill out the resources registration form.
DC Government agencies that are hiring:
State and federal agencies that are hiring:
Private-sector companies that are hiring:
Participating Service organizations:

Department of Veterans Affairs, Benefits Administration (Baltimore)

Planned Parenthood of Metropolitan Washington DC

Health Care Assistant
Registered Nurse
Clinician

Corman Kokosing Construction Company

Skilled Laborer
Carpenter
Pipelayer
Excavator Operator
Driver, Class B
Heavy Equipment Mechanic
Structures Foreman
Project Engineer
Project Manager
Parts Manager
Payroll Specialist

Baker Concrete

General Laborer
Skilled Laborer
Carpenter
Carpenter Helper
Equipment Operator
Apprentice

Allied Aviation

Fuelers
Utility Person
Heavy Equipment
Mechanic
Plant Farm Operator
Maintenance Clerk

Blackwood of DC

Carpenter
Finisher
Skilled Laborer

STAR Enterprises

Hospitality Staffing and Janitorial positions

So Others Might Eat (SOME, Inc.)

Night Managers
After School Program Assistants
Case Managers
Addiction Counselors

Harbor Roofing and Contracting, Inc.
Crestline Hotels
V-Tech Solutions, Inc

Business Development
Licensed Social Worker (DC)
Recruiter
Client Service Representatives

Securitas Security Services USA
PSAV

Sales Manager, Conference Systems
Audio Visual Technician
Audio Visual Technical Lead
Audio Visual Technical Supervisor
Audio Visual Technical Specialist

Donohoe Hospitality Services

Bartender
Cook
Server
Utility
Food Service
Supervisor
Housekeeper
Front Desk Clerk
Front Desk Supervisor
Houseperson

InterContinental Washington DC-The Wharf

Door Attendant
Bell Attendant
F&B Manager
Restaurant Server

Admiral Security Services

Security Officer
Special Police Officer
Supervisors

Quorum

Account Executive
Business Development Representative
Customer Success Manager
Product Marking Manager
Field Marketing Manager
Software Engineer

Colonial Parking (All positions must have a valid DL and drive a stick shift/manual car)

​​​​​​​Valet Attendant
Shift Manager
Cashier Attendant
Parking Associate

Royal Exteriors
Project Support Services

Full Time DoD Cleared Security Officer
Full Time Museum Security Officer
Full Time Armed SPO
Part Time Armed SPO
Part Time Unarmed SPO
Part Time Security Officers
Flex Armed SPO
Flex Unarmed SPO
Flex Security Officers

YMCA of Metropolitan Washington

CDL Driver
Membership Service Representative
Group Exercise Instructor
Assistant Aquatics Director
Membership Service Representative
Assistant Aquatics Director
Membership Associate
CDL Driver
Personal Trainer (Continuous)
Membership Service Representative
Swim Coach
Wellness Coach
Swim Instructor (Continuous)
Lifeguard (Continuous)
Membership Service Representative
YMCA Alexandria Cycle Instructor
Personal Trainer
Group Exercise Instructor
Indoor Cycle Instructor
Membership Associate
Membership
Experience Leader

The Service Companies

​​​​​​​Housekeeping Supervisor/Manager

ASM Research, An Accenture Federal Services Company

​​​​​​​Cyber Security
IT
Cloud Support
Project Analyst

MedStar Health Systems

​​​​​​​Applications Analyst I,
Applications Analyst II,
Applications Analyst III
Data Scientist
Director, Cloud
Services
Research Technician
Manager, IT Audit
IT Security Analyst
Manager, Grants & Contracts Management
Research Fellow
Solution Architect

Eastern Branch Demolition

​​​​​​​Heavy Equipment Operator
Project Manager
Estimator

The Bozzuto Group

​​​​​​​Maintenance Technician
Sales & Marketing Associate
Concierge

Innovo Construction, LLC

Project Manager
Assistant Project Manager

Dynamic Contracting, Inc

​​​​​​​Laborer
Drywall Finisher
Drywall Mechanic

REI Systems

​​​​​​​Full Stack Developer
Program Manager
Proposal Manager
Business Analyst
Data Analyst
DevOps Engineer
Database Engineer
Database Administrator

The George Washington University

​​​​​​​Project Coordinator
Financial Analyst
Academic Advisor, School of Nursing Student Affairs
Administrative Assistant, School of Nursing Student Affairs
Finance Associate, Law School
Senior Career Coach
Research Grant Manager, Department of Epidemiology
Poison Information Specialist
Senior Instructional Designer
Director, I-Corps at GW
Assistant Theater Manager
Senior Library Assistant, Access Services
Senior Library Assistant, Access Services
Library Coordinator
Program Associate, Museum Collections
Assistant Director, Law School Leadership and Annual Giving
Research Program Associate
Tech Support Associate
Director, Planned Giving
Program Associate, Lerner Staff Operations
Senior Fitness & Wellness Coordinator
Senior Law Career Counselor
Program Coordinator, Law School
Sponsored Project Administrator, Post Award
Program Coordinator, Institute for African Studies
Administrative Manager
Associate Director of Development, Family Philanthropy
Digital Technology Training Specialist
Advocacy Specialist
Prevention Specialist
Career Coach, Exploration
Research Program Manager, SPH Post-Award
Senior Administrative Associate
Academic Department Administrator II,SEAS On-line and Off Campus Programs
Senior Administrative Assistant
Senior Wireless Engineer
Associate Director of Development, Law School Reunion Giving
Marketing Associate, GSEHD
Research Program Manager, Mullan Institute for Health
Workforce Equity
Multimedia Producer, Videography
Assistant Director, Admissions, School of Nursing
Technical Support Associate, CPS
Admissions Coordinator, Enrollment Management
Groundsperson
Director, Communications, Marketing, and Recruitment, CPS
Tech Support Coordinator
Program Associate
Instructional Technologist
Program Coordinator
Assistant Director, Co-Curricular Programs & Community Initiatives
Senior Programmer and Data Administrator
Supervisor, Dispatcher
Applications Analyst, Research
Research Program Associate, Pre-Award
Tech Support Specialist III, ITSC
Contracts Processing Coordinator
Associate Director, Donor Relations
Business Analyst
Executive Director, Sponsored Projects
Research Compliance Associate, Clinical Regulatory and Quality Control
Industrial Hygienist
Practicum Associate, Department of Global Health
Development Assistant
Senior Audiovisual Technician
Associate Program Director, Partnerships
Director, Research Technology Services
CRM Technical Lead, Salesforce
CRM Product Manager, Salesforce
Associate Director of Development, School of Engineering and Applied Science
Executive Director, Annual Giving
Assistant Vice President, Talent Development
Salesforce Training Specialist
Business Analyst, Salesforce
Assistant Coach, Men's and Women's Squash
Assistant Coach, Men's and Women's Water Polo
Plumber
Research Fiscal Administrator
Applications Administrator, Salesforce
Director of Development, Family Philanthropy
Research Program Manager, Clinical Research
Senior Signmaker
Locksmith
Senior Locksmith
Junior Maintenance Mechanic
Administrative Supervisor, Clinical Research
Instructional Technologist, Multimedia Lab
Cost Estimator
Systems Administrator, REDCap
Senior Associate Director, Constituent Giving
Instructional Technologist, Digital Multimedia
Director, Strategic Digital Learning Initiatives
Assistant Vice President of Development, Law School
Assistant Vice President of Development, Elliott School of International Affairs
Temporary Software Developer
Director of Development, Poison Center
Audiovisual Technician

Yelp