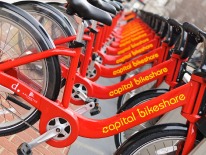 DC Government employees are eligible for a FREE annual Capital Bikeshare membership (regularly $85). Free membership includes an unlimited number of free 30-minute rides on Classic bikes and a $2 discount on ebike trips. After member discount, ebikes cost $1 to ride for 30 minutes. In addition, ebikes incur a $1 fee if locked to bike racks rather than parked at a station. There are never any usage fees for the first 30 minutes of any trip on a Capital Bikeshare bike. Trips lasting longer than 30 minutes will incur usage fees on both types of bike.
Learn more about Capital Bikeshare pricing and usage fees
.
About Capital Bikeshare
Capital Bikeshare
is a District-owned transportation system that includes thousands of bikes and more than 300 stations in DC, and hundreds more in Arlington, Alexandria, Fairfax, Falls Church, Prince George's County and Montgomery County. Bikes include Classic red Bikeshare bikes, and new black ebikes that give an automatic boost when you pedal, making climbing hills and biking long distances easier. Whether you ride for work or for play, Capital Bikeshare gives you a new, healthy and environmentally friendly transportation option!
How do I sign up?
Use the DC Government discount code: DCGBikes2834
How can Capital Bikeshare help me?
Get exercise while you commute to work or travel around town

Save money on transit fares, parking and other transportation expenses

Expand your lunch options with quicker access than walking

Get there faster with dedicated bike lanes and conveniently placed stations

Connect to transit for quick first-mile or last-mile access

Take advantage of built-in lights, secure docks, a front basket and more features
How does Capital Bikeshare work?
Capital Bikeshare is a bike-sharing system that gives you access to a fleet of bikes, 24 hours a day.

The first 30 minutes of the ride on Classic bikes is free; usage fees are incurred on individual trips over 30 minutes. Your annual membership includes an unlimited number of Classic bike trips.

Ebikes are also available for a $1 unlock fee ($3 for non-members). Ebikes may also be locked to bike racks for an additional $1 free. Locking ebikes at Bikeshare Stations is free. Learn more about ebikes here

Either use the Capital Bikeshare App to unlock bikes, or use your key at any bike dock. When the green light appears, firmly pull the handlebars toward you to release the bike.

Return the bike to any station. Push the front wheel firmly into an empty dock, and wait for the green light. Ebikes may be locked to bike racks with the cable lock on the back of the bike. Classic bikes must be returned to stations or will incur lost bike fees.