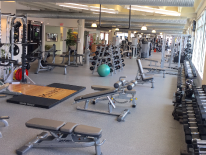 Established in 2006,
MINT
delivers a well-rounded fitness experience within a warm, modern facility and a close-knit community. The MINT staff embodies the values of nurturing the body, mind and spirit through the pursuit of wellness. MINT is much more than a gym with workout equipment, personal trainers, and exercises classes. MINT is an experience; friendly, clean, and well maintained with a membership limit at each club, top-educated professionals and wellness services such as an award-winning spa and nutrition counseling.
Join a health club where the owners and highly qualified staff are passionate about supporting your fitness goals. But watch out because our passion is contagious! MINT members regularly praise the state-of-the-art facilities and equipment, the top-quality trainers and instructors, and their fellow gym goers as the best in DC.
Annual Membership Options:
$98.20/month without classes
$157.19/month with classes
Enrollment
Interested individuals can visit www.mintdc.com to request a free trial or contact Bresni Maldonado at 202.529.0972 or [email protected].
Please Note: Employees must show proof of employment to receive the discounted rates.