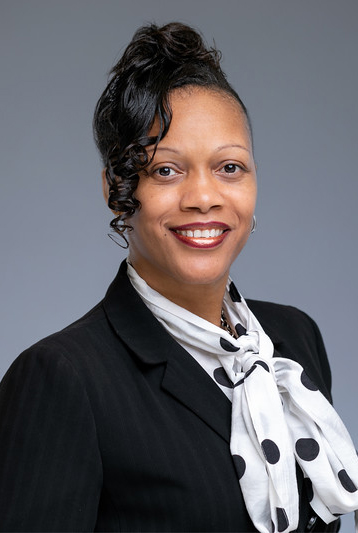 Dr. Keisha M. Hawkins is the Human Resources Officer (HRO) at the DC Department of Human Services. As the HRO, she oversees all aspects of human resources management for more than 1400 full-time equivalents. Under her leadership, the Office of Human Resources performs tasks in Equal Employment Opportunity Compliance, Employee & Labor Relations, Recruiting & Staffing, Classification and Compensation, Benefits Administration, Family Medical Leave, Change Management and Training & Development, and collaborates on Worker's Compensation and American Disability Act matters. Recently, Dr. Hawkins has been credited with initiating and spearheading the long overdue conversion process where 400+ Term employees were converted to permanent statuses.
Previously, Dr. Hawkins served as the senior manager at the headquarters of the Department of Motor Vehicles (DMV) with the Government of the District of Columbia beginning in 2007. At the DMV, Dr. Hawkins oversaw all vehicle and driver services that were delivered to more than 500 District residents, daily, and reconciled over $2m, monthly. Dr. Hawkins later joined the Child and Family Services Agency as the Supervisory Management Services Liaison in 2012. She progressively assumed greater responsibilities in the administrative arena as a Program Manager and Chief Administrative Officer, rounding out her tenure at the agency as the Deputy Director for Administration, performing additional tasks as the Chief of Staff. As the Deputy Director for Administration, Dr. Hawkins was responsible for key administrative functions including Human Resources Management, Worker's Compensation, Contracts & Procurement, Business Services, Facilities Management, Administrative Services, Language Access, Records and Document Management, purchase and travel card programs, risk management, and safety. During her tenure, approximately 20% of the formal employee grievances were reduced, approximately 33% of outstanding worker's compensation cases were effectively closed resulting in employees returning to work or separating from the agency, and decade-long severed relationships were restored that led to Agency-Provider collaborations such as an inaugural Retreat on policies and practices; the retreat contributed to the advancement of childcare practices for the improvement of outcomes for children, youth, and families.
Dr. Hawkins has held management positions at Siemens Enterprise Networks and DHL where she earned various awards and recognition, including the Significant Contribution Award which she holds dear to her heart. Her expertise centers around operational and business management, human resources management, process reengineering, organizational leadership, and service excellence. Dr. Hawkins has over 18 years of management experience and has consistently implemented policies and procedures that have repeatedly garnered positive outcomes for her employers' employment practices and operational policies.
Dr. Hawkins began her undergraduate studies at the University of Southwestern Louisiana. She earned her Associates, Bachelors and Master of Science degrees in business administration from Strayer University and earned her Doctor of Education degree in organizational leadership and human resource development from Nova Southeastern University. For over 10 years, Dr. Hawkins has held appointments as an Adjunct Professor and teaches graduate and undergraduate business courses in accounting, business, human resource development and management. She is active in her community and serves on the Education Ministry at her church. Dr. Hawkins conducts public speaking engagements via social media and face-to-face platforms, participates as a panelist at career interest meetings and presentations, and performs lectures at university and other informational events.