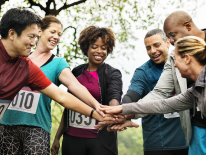 DCHR believes healthy, productive employees are the cornerstone of a robust, efficient workforce. As such, DCHR is committed to the continual improvement of District employee health and well-being through balanced, effective combinations of worksite wellness programs and insurance benefits to produce the healthiest possible workforce. The District's employee wellness program provides the foundation for agencies to develop activities and modify work environments and policies to support employee health and well-being. By creating internal agency wellness leaders and committees, we hope to maximize ongoing efforts and create more sustainable and equitable participation across agencies.
As an agency wellness leader, you will:
Serve as an ambassador for employee well-being.
Acting as your agency's main point of contact on wellness-related programs and campaigns.
Assist DCHR with monitoring and evaluation to ensure your employees are being effectively engaged with substantive programming.
Encourage employee participation in wellness activities and create enthusiasm around leading a healthy lifestyle.
Participate in a monthly call/webinar to review upcoming offerings and opportunities and engage with our Wellness Program Coordinator and health care carriers.
Each month, in partnership with our health care vendors, DCHR coordinates wellness seminars, weight-loss and smoking cessation programs, cooking demonstrations, fitness classes and more at agency worksites across the District. Agency wellness leaders and committees determine if and when an offering is applicable to their employees and work with DCHR's wellness team to schedule and host events and programs accordingly. In addition, wellness committees can request agency-specific wellness programs and services outside of our monthly offerings.
For more information regarding agency wellness committees and leaders, please contact Benefits & Retirement Administration at [email protected].