Mayor Bowser Announces Virtual Summer Hiring Event
Registration is Now Closed !
The District of Columbia's Department of Human Resources (DCHR) announces its summer hiring event on Thursday, August 11 and Friday, August 12
Participating agencies will make on the spot job offers for nearly 1,000 vacancies in several industries to include health and human services, public safety, planning and economic development, internal services and operations and infrastructure. Registration for the event is open until Sunday, August 7, at 11:59 p.m. Individuals wishing to participate will be required to register.
DCHR will focus on enhancing the interaction between residents, recruiters and hiring managers in the District of Columbia Government using a virtual platform to pre-screen candidates. The pre-screening process will begin on July 29 with the review of all applications and resumes; all interviews for those selected will take place on Thursday, August 11 and Friday, August 12. Selected candidates will receive a formal invite with further instructions. Some offers will be made after the event pending any required suitability compliance standards.
Please note: Your resume may be considered for other opportunities included in the event and therefore replied by other agencies for candidates. If you do not want your resume considered for other District opportunities, please send an email entitled "Opt Out" to [email protected]
Applicants will also have an opportunity to claim additional preferences like District residency, military service, and foster care as applicable.
Applicants will have the option of claiming additional preference if they are:
A District resident,

Anyone claiming District residency preference at the time of application should bring a government-issued form of identification and proof of voter registration.

A veteran (and/or has disabilities from military service),

Applicants claiming veteran's preference should bring a copy of their DD-214.

18 to 21 years of age and is currently or was a Child and Family Services (CFSA) foster care recipient within the last five years.

Applicants claiming a foster care preference will need a letter or other documentation from CFSA or the Family Court of D.C. Superior Court showing that they are currently in foster care or showing the date they left court supervision.
To ensure candidates are well prepared for the event, DCHR's Center for Learning and Development (CLD) will host candidate preparation seminars where tips will be provided on resume writing, interviewing, how to best engage with recruiters virtually, and how to best navigate the platform in advance of the registration period closing. To have the best experience during the session we recommend using a desktop computer. Should you access the session from a phone make sure that you download the WebEx app prior to accessing the meeting.
For more information candidate preparation seminars please see the below session times. If you missed the live sessions, you may view a recorded session by accessing the following link.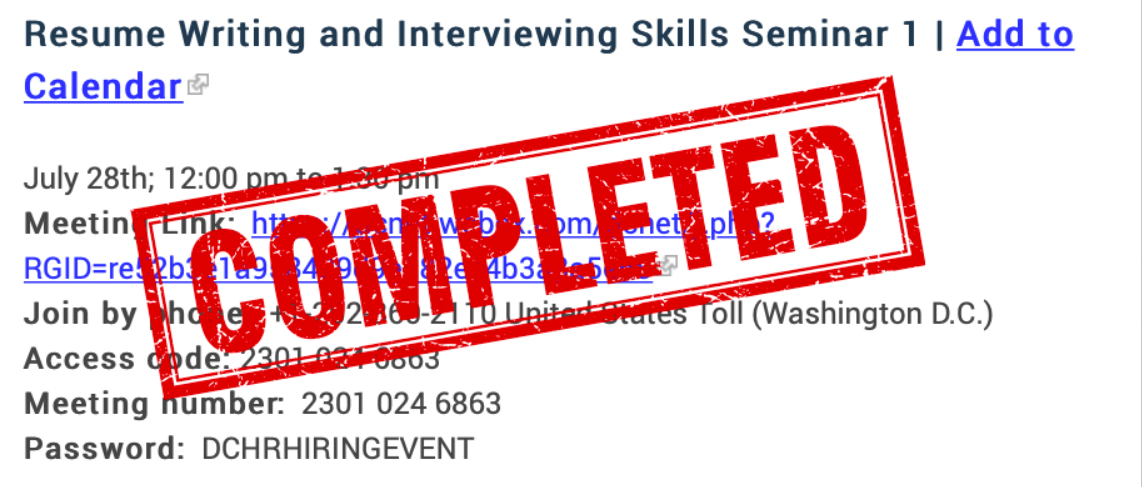 Tools for selected candidates:
For more information, contact the DC Department Human Resources at via email at [email protected].