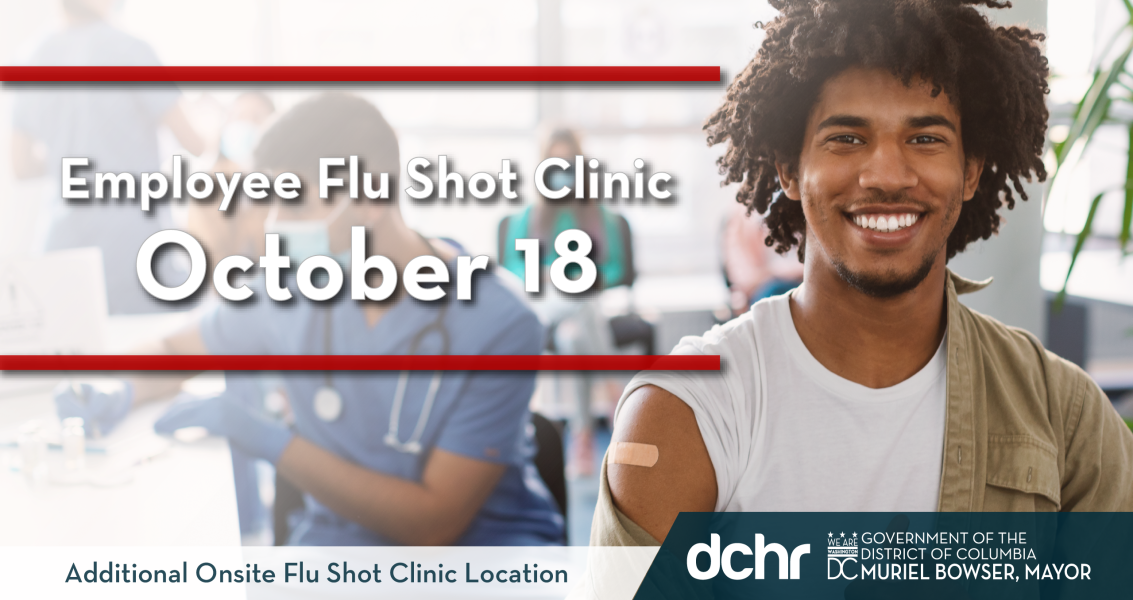 According to the
Centers for Disease Control and Prevention
(CDC), the flu season typically starts to ramp up in October and peaks between December and February. The flu shot is your best defense against serious health risks this season, and now more than ever, it's important to stay safe and stop the spread. In partnership with our health care vendors, the DC Department of Human Resources will host free employee flu shot clinics October 4th-12th at four locations. Please see below for clinic details.
Flu shots are available by walk-in only on a first-come, first-served basis.
All employees must bring their employee ID and medical insurance ID card.
Make sure to wear clothing appropriate to receive a flu shot. 
Always consult your primary care physician with any questions you may have regarding vaccinations, medical condition, procedure, or treatment.
Flu Shot Resources:
---
Flu Shot Clinic Locations
Date

Time

Location

Vaccine
Tuesday,
October 4, 2022
10:00 am to 3:00 pm

1015 Half Street, SE, 9th Floor,
Rooms: 9014, 9015, 9016, 9017

Influenza Standard and Influenza Senior
Thursday,
October 6, 2022
10:00 am to 3:00 pm

Marion Barry Jr., Building 441 4th St, NW,
Rooms: 11th Floor

Influenza Standard and Influenza Senior
Tuesday,
October 11, 2022
10:00 am to 3:00 pm

1800 Martin Luther King Jr., Avenue, SE,
Room: Human Resource Center

Influenza Standard and Influenza Senior
Wednesday,
October 12, 2022
10:00 am to 3:00 pm

1050 1st St, NE
Rooms: Eleanor Holmes Norton I, II, and III

COVID-19 booster (Pfizer Bivalent), Influenza Standard, Influenza Senior, Shingles, Pneumonia, and Tdap
Tuesday,
October 18, 2022
11:00 am to 2:00 pm

John A. Wilson Building
1350 Pennsylvania Ave NW Washington DC 20004

Influenza Standard and Influenza Senior
---
Vaccinations
See the listing of available vaccinations that are available during the 2022 flu season.
Influenza Standard (under age 65) and Influenza Senior (65 and older) - Influenza vaccines protect against infection by influenza viruses.
Covid-19 booster - COVID‑19 vaccine is intended to provide acquired immunity against severe acute respiratory syndrome coronavirus 2 (SARS‑CoV‑2).
Pneumococcal (Pneumonia) - Pneumococcal vaccine protects against the bacterium Streptococcus pneumoniae. Their use can prevent some cases of pneumonia, meningitis, and sepsis.
Shingrix (Shingles) - Shingrix is a vaccine used for the prevention of herpes zoster. Herpes zoster is caused by the same virus (varicella) that causes chickenpox in children.
Tetanus, Diphtheria, and Pertussis (Tdap) - Tdap vaccine can protect adolescents and adults from tetanus, diphtheria, and pertussis.

---
Your Flu Shot Clinic Experience: Answers to Frequently Asked Questions
To ensure the best possible experience for yourself and your colleagues, please note the following:
There are no set appointments. Flu shots will be administered by walk in only on a first-come, first-served basis over the duration of the clinic; however, we are well stocked and anticipate no issues.

Bring your employee ID and medical insurance ID card

;

flu shots are available only to DC Government employees and contractors

. We regret that we cannot offer flu shots to employees' families and/or dependents; however, we encourage you to reach out to your health care-benefits and/or health care provider to inquire about how you can obtain flu shots for your family. Contact information can be found on your insurance card and

here

.

Please make sure you wear clothing that is appropriate for receiving a flu shot. Unfortunately, we cannot guarantee that privacy screens will be available at each location. To ensure a hassle-free experience, we strongly suggest you wear clothes with sleeves that can be easily pushed back, rolled up, removed, etc. or bring a t-shirt, etc. to change into for your shot.

Please be prepared for a brief wait, especially if you participate over peak break times, i.e. lunch time. Clinics will be well stocked and staffed, so we do not anticipate significant wait times; however, if you are short on time, we suggest planning accordingly.

---
Alternatives to DC Government Employee Flu Shot Clinics: Health Care Carrier Flu Shot Information