The Affordable Care Act & Form 1095-C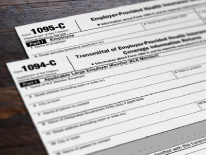 The
Affordable Care Act
requires certain employers to offer health insurance coverage to full-time employees and their dependents. Further, those employers must send an annual statement to all employees eligible for coverage describing the insurance available to them. The Internal Revenue Service (IRS) created Form 1095-C to serve as that statement.
To comply with the new ACA requirements, the District has made several changes to our benefits program, including providing employees with a 1095-C form. The 1095-C includes information regarding the offering and enrollment of employees in the District's health insurance plans.
To provide easy and quick access to the 1095-C, employees will be able to consent in PeopleSoft to electronically receive the 1095-C, similar to the process for receiving electronic W-2s. Employees who do not consent to receive an electronic 1095-C will have a paper copy mailed to the address listed on file in PeopleSoft.
Please Note: Employees must submit their consent to electronically receive Form 1095-C by Friday, February 17, 2023.
Health Benefits for Temporary Employees
Health insurance benefits will be extended to certain employees in temporary appointments and their dependents under the DC Employee Health Benefits Program (DCEHB) during the annual Open Enrollment period. Eligible employees will have an opportunity to select a health maintenance organization (HMO) health benefits plan, as provided in this instruction. This coverage does not extend to dental or vision care insurance.
Eligibility for Temporary Benefits
District government employees serving in temporary appointments may be eligible to participate in an HMO plan only under the DCEHB if he or she meets the following eligibility requirements:
Be an employee of the District government who is serving in a temporary appointment (i.e., full-time, when actually employed)
Worked 90 or more days within the last 12 months
Received compensation for an average of 30 hours a week or 120 hours a month
Resources
About the Affordable Care Act
The Patient Protection and Affordable Care Act, commonly called the Affordable Care Act (ACA), is a United States federal statute signed into law on March 23, 2010. The goal of the ACA is to make health care more affordable, accessible and of a higher quality. This includes those who were previously uninsured, and those who had insurance that didn't provide them adequate coverage and security.
Please Note: Part-time and full-time benefits eligible employees are not impacted by the ACA benefits expansion.