District employees have access to a new and exclusive financial wellness program: Financially Fit DC at Work!
Financially Fit DC at Work convenes all the benefits, services, tools and training available to District Government employees and their families, such as:
Financially Fit DC at Work is part of the National Association of State Treasurers grant award to promote financial literacy education to District employees.
Join now and see all the benefits and programs available to you: Financially Fit DC at Work.
---
Did You Know
After you register, you can take the opportunity to win prizes* by completing different activities along your financially fit journey, such as:
Prize Rules:
Complete any of the following actions and be eligible to win one of several prizes!
Register and complete an intake questionnaire at AtWork.FinanciallyFitDC.com. Complete registration and intake questionnaire will give you one (1) entry.

Earn Discovery Badge at AtWork.FinanciallyFitDC.com. Earn the Discovery Badge to receive one (1) entry.

Attend a virtual online seminar. Each session attended will give you one (1) entry.

Attend a Virtual one-on-one appointment with your local Retirement Plans Specialist. A completed appointment gives you one (1) entry.
Available Prizes:
Two (2) Apple iPad Grand-Prizes

Ten (10) Apple AirPods

Twenty-Five (25) $50 Gift Cards

Twenty-Five (25) $25 Gift Cards
Please be on the lookout for future opportunities to win additional prizes.

* Only District of Columbia employees are eligible to win. Winners will be drawn at random. Prizes for each drawing may vary. Winners will be contacted via email. Winners will be featured on AtWork.FinanciallyFitDC.com
---

October's Virtual Event: Estate Planning
Thursday, November 30, 2023
11:00 AM - 12:00 PM (UTC-04:00) Eastern Time (US & Canada)
Download and share the event flyer.
---
Upcoming Virtual Events
Do not miss an opportunity to find new and different opportunities to plan for a secure financial future. Participate in as many events possible this year to maximize your financial wellness.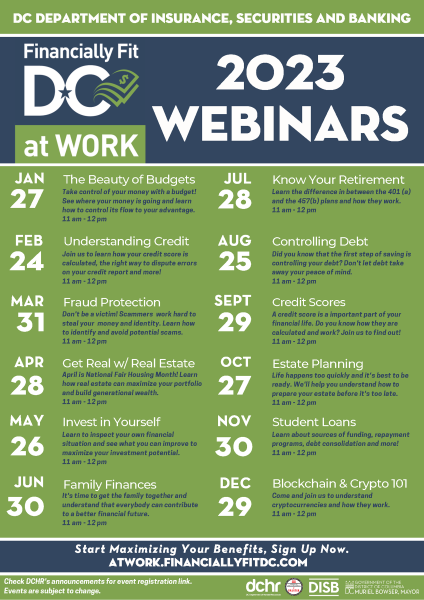 * Download the full list of events by clicking on the image above.
---
Additional Resources:
Percipio Resources
Common Sense Finance: Finance for Individuals and Entrepreneurs
The Tools & Techniques of Employee Benefit and Retirement Planning, 12th Edition
MissionSquare Retirement Education Center: Retirement Education Center
Budgeting & Organizing your Finances
Juggling Your Financial Goals (MissionSquare webinar)
Building your Investment Portfolio (MissionSquare webinar)
Student Loan Paydown (MissionSquare webinar)
401a & 457b Educational Seminar (MissionSquare webinar)
How to Plan for your Retirement
Your Retirement Plans Work Together (MissionSquare webinar)
Estate Planning (MissionSquare webinar)
Social Security (MissionSquare webinar)
Outside Resources:
How to Plan for your Retirement:
Article: 5 Common Retirement Planning Mistakes -- And How To Avoid Them by Kelli Click
Budgeting & Organizing your Finances:
Taxes: https://www.key.com/personal/financial-wellness/taxes.jsp
Article: 12 Easy Ways to Pay off Debt
Financial Literacy: