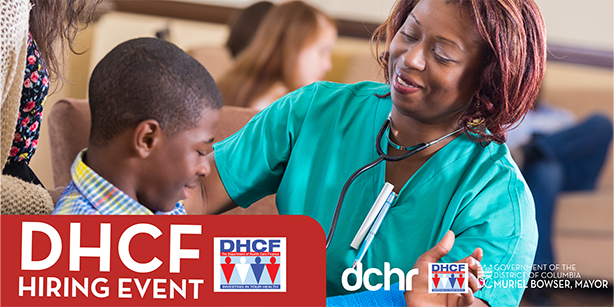 On Wednesday, April 25, 2018, the DC Department of Human Resources (DCHR) will host a Hiring Event for the Department of Health Care Finance (DHCF) at 441 4th St NW, Washington DC from 10:00am to 7:00pm.
What is DHCF?
DHCF is the state Medicaid agency for the District of Columbia. When you become a member of Team DHCF, you join our "Mission Possible!" We work in concert with various District Government agencies to streamline access to comprehensive, affordable, and quality healthcare services for District residents. Whatever your position within Team DHCF, you will positively impact beneficiaries, their families, and their future! We invite you to bring your skills, experience, and passion to a job that makes a difference!
District Access System (DCAS)
The District Access System (DCAS) is a state of-the-art health and human services solution that will provide the District with a modern integrated eligibility system for Medicaid, Supplemental Nutrition Assistance Program (SNAP), Temporary Assistance to Needy Families (TANF), and other programs. DCAS will offer new case management capabilities and functionality mandated by the Affordable Care Act (ACA) such as Advanced Premium Tax Credit (APTC) and Modified Adjusted Gross Income (MAGI) Medicaid eligibility services as well as promote economic independence for low income families.
The event is FREE, but registration is required. DCHR encourages advanced registration, but same-day at the door registration will be available.
Event Details
Who: Those who are excited to join Team DHCF!
What: Hiring Event for DHCF for multiple openings on the District Access System (DCAS) Team
Where: Old Council Chambers, 441 4th St NW, Washington, DC 20001
When: Wednesday, April 25, 2018
Time:

10:00am to 2:00pm - DC Residents Only
2:00pm to 7:00pm - Open to the General Public (Including DC Residents)

Registration: Advanced registration available via Eventbrite
Metro
The location is accessible by Metrorail. Take the red line to Judiciary Square, 4th Street exit.
Participant Requirements
Attendees are required to bring multiple hard copies of their resumes to the event. Attendees are also strongly encouraged to send their resumes to [email protected] prior to the event and to review the position descriptions provided below.
As noted above, the first time slot is restricted to DC residents and attendees are required to bring one of the following forms of documentation to prove DC residency:
DC Voters Registration Card
DC ID or DC Driver's License
DC One Card
Please click on the position title to view the position description.
Please note for DC Government Management Supervisory Service (MSS) appointments:
"At-will employment applies to the Management Supervisory Service (MSS). All positions and appointments in the MSS serve at the pleasure of the appointing authority and may be terminated at any time with or without cause."
Contact
Please contact DCHR with any questions or for additional information at [email protected] or 202.442.9700