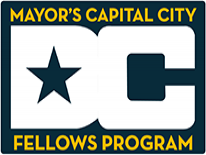 The Next Application Period is to be announced.
The Capital City Fellows Program (CCFP) is a mayoral initiative to attract recent graduates of master's degree programs in public administration, public policy, urban planning, social work and related fields to work for the city of Washington, DC. Candidates compete for 18-month fellowship appointments during which they may complete three six-month rotations in different city agencies or three different departments in the same agency, including:
In addition to on-the-job training in their host agencies, our Fellows are given unique opportunities to meet with high-level city officials; participate in educational and professional development training and seminars; and the Individual Development Plan Self Assessment. Our program prepares Fellows to meet the challenges of local government public service and develops management talent for the city. Fellows begin their service in the fall of each year and are selected through a competitive application process.
Brief Description of Duties: Capital City Fellows will perform a variety of assignments that are designed specifically to enhance the Fellow's public service values, leadership skills, and managerial abilities in areas that relate to the mission of their assigned agency. Fellows will participate in required Capital City Fellows Program (CCFP) activities including, but not limited to, seminars, policy briefings, brown bag lunches, site visits, and hearings. Fellows will complete CCFP assignments including, among other things, biweekly reports, presentations to other Fellows, agency and CCFP specific Individual Development Plans (IDPs), and program evaluations.
Qualifications: Ideal candidates for the Capital City Fellows program will have including, but not limited to:
Strong analytical and research skills
Ability to work independently and lead significant projects from inception to completion
Excellent written and verbal communication skills
Ability to communicate complex program, policy, or financial information to diverse stakeholders
Conduct research and analyze labor market information to inform the design and evaluate workforce development strategies, and may project manage the implementation of strategies.
Problem solving skills
Ability to coordinate, facilitate, and lead efforts towards greater collaboration and program delivery with agency partners, community organizations, and interagency working groups
Strong project management abilities and
Excellent organizational skills
Salary Range: Capital City Fellows receive an initial appointment in the Excepted Service pay schedule (ES-0301-4) at a salary of sixty-one thousand eight hundred forty-five ($61,845) for the first year with a 4 percent increase in the second year contingent upon a satisfactory performance rating and funding.
Employment Benefits: This is a "time limit", Excepted Service Appointment Not-to-Exceed 18 months. Selectee will be eligible for health and life insurance, annual (vacation) and sick leave and will be covered under the District of Columbia government's retirement plan. However, if selectee was previously employed in the District of Columbia government under an appointment for which he/she was eligible for Civil Service Retirement (CSR), contributors to CSR will resume upon reemployment. Relocation expenses will not be paid.
Eligibility Requirements:
To be eligible to participate in the Capital City Fellows Program, applicants must meet the following criteria:
Must have a master's degree or have completed master's degree by October 2021
Ideal candidates have graduated within the last two years
3.5 GPA required, 3.0 required for J.D.
US Citizen or Legal Non-Citizen Resident status
Required to live in the District of Columbia within 180 days of appointment
Preference will be given to District Residents. You must be able to meet the Domicile Requirements at time of selection.
For additional information about the Capital City Fellows Program, please contact the DCHR Center for Learning and Development at (202) 442-9700, or via email at [email protected]. You may also visit our Capital City Fellows Program Facebook Page or twitter.com/CapCityFellows